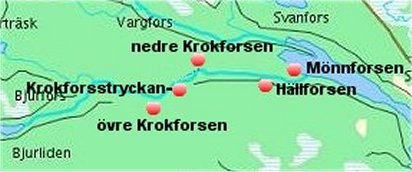 From Upper Krokforsen down to Malåns outflow in Skellefteriver.
Fact: Fishing allowed 15/5-30/9
Accessibility: By the roadside
Species: Trout, grayling, pike and perch.
Fishing: Malån: Only flyfishing with flyfishing rod allowed, only barbless hooks.

Treat all fishes with utmost care.

All fishes shall be returned, including pike, perch and roach etc.

On this stretch you can keep 3 graylings/day up to 25cm size, all bigger graylings shall be returned.

For all other species there is "catch & release",
all fishes shall be returned.